Boise Police raid underground poker den
18-07-2013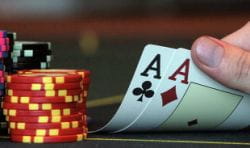 Boise Police have smashed an illegal gambling den, which resulted in the arrest of four people. Approximately four weeks ago, neighbors started complaining about the alleged gambling activities. Police officers raided the Boise-based premises and discovered an underground poker business.
Underground poker establishment
A spokesperson for the Boise Police Department revealed that they recovered several poker-related items. Gamblers could buy poker chips inside the illegal poker club. Agents confiscated poker tables, chips and cards. Multiple patrons were enjoying a game of poker at the time of the raid.
Illegal gambling charges
Police believe that four individuals operated the
underground poker establishment
. The foursome includes 32-year-old David A Deboer, 60-year-old Jo Anne Lough, 59-year-old Timothy Lough, and 33-year-old Travis J. Lough. They have been charged with offenses related to illegal gambling. The spokesperson added that they would continue to crack down on all forms of illegal gambling.