Banjara Hills Police arrest a dozen gambling poker players
18-03-2013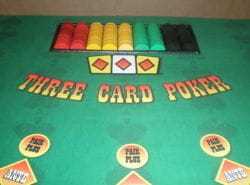 A group of Indian punters who were playing three card poker at an Indiranagar property have been arrested. Banjara Hills Police confiscated 12 cell phones, in addition to $1,500 in cash. Police decided to visit the premises after they had been informed about the gambling activities. Gambling is strictly prohibited in India.
Arrested gamblers
According to Indian media, Ch Venkateswarulu was one of the arrested persons. The 29-year-old assistant manager of Sri Venkateswara Bhakti Channel reportedly hosted the poker games. The other arrested gamblers include N Murali Prasad (37), G Jayaramreddy (40), N Sreenu (37), S Satish (33), V Raju (34), B Suresh, A VV Pratap, P Raju (34), P Subba Raju, Ch Narshima Murthy, and Prasad.
Popular poker variant
Everyone knows good things come in threes, with the same applying for
three card poker
. This poker variant has become a popular game both in brick and mortar casinos and online casinos. Derek Webb is considered as the brains behind three card poker. The poker variant was first introduced in 1994, and was also known as Brit-Brag and Casino Brag.