Tokyo Police shut down online casino
06-10-2012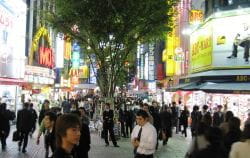 Tokyo Metropolitan Police have shut down online gambling site Internet Nevada. The internet casino bust resulted in three men arrested, including the owner of the site. The other two suspects allegedly worked for the online casino based in the Kabukicho area. Japanese media report that all three men have admitted their involvement in the illegal gambling operation.
Online casino bust
Police officers visited the premises that appeared to be a cybercafé. However, they found 12 computers connected to a foreign online casino. A senior citizen was gambling at one of the computers at the time of the raid. Both offline and online gambling are illegal in Japan, while pachinko machines and slot games are allowed.
Easy money
Authorities assume that Internet Nevada started its activities about 8 months ago. The online casino made approximately $897,604 since the opening. Takeshi Yoshida was reportedly the manager of the illegal gambling site. "I came up with the online casino to generate money quickly and easily," Yoshida stated.