Space trip up for grabs at Royal Panda
11-03-2014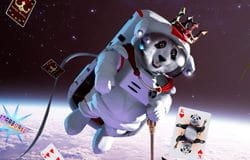 How about winning a ticket for a once in a lifetime space trip? That's exactly what you can win at Royal Panda. Their 'Win a space trip with Starburst' promotion offers you the chance to blast off to space. That's what we call an
'extraterrestrial' promotion
!
Visit Royal Panda and win a trip into space
How to participate
You may ask yourself: how can I join this exciting promotion? Royal Panda has made it
surprisingly easy
for you. First you have to sign up with Royal Panda, after which your first deposit will be doubled. Then start spinning the reels of the extremely popular Starburst video slot for real money. If you land the winning combination, you will be heading to space. That's all.
Real money, all pay-lines activated
Please remember that you have to play the Starburst slot for real money, while
all pay-lines have to be activated
when creating winning combinations. Additionally, wild symbols are allowed when landing the highest possible combination of symbols, which is the one displayed in the picture. There's no restriction on the number of attempts.
Unique promotions
Royal Panda
strives to establish itself as an exclusive online casino that offers unique promotions. The 'Win a space trip with Starburst' campaign is just a little taste of what you can expect at Royal Panda. What better way to put your money where your mouth is than offering a space trip. Join Royal Panda for free and start playing the Starburst slot for real money to win a life-changing trip to space!