Royal Panda offers delicious food pack
06-05-2016
This weekend, Royal Panda offers an exciting promotion to honor the International No Diet Day. The winner receives a mega food pack loaded with
more than 800 snacks
. Royal Panda has assigned three video slots that are themed around food.
Hunt for the highest combo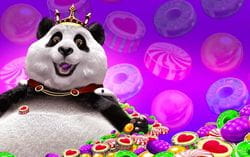 This yummy promotion is all about scoring the highest combination on one of the following slot titles:
So Much Candy
So Much Sushi
Big Chef
So, play these tasty slots for real money between 6-8 May 2016, and hunt for the highest combo. Royal Panda awards the winner an
enormous snack pack with nearly one million calories.
More than 800 snacks lie in store
You may be thinking: What types of snacks are up for grabs?
Royal Panda
has put together an impressive package with mouthwatering items, such as:
20 x tins of canned ham
10 x jars of boiled sweets
50 x bags of popcorn
30 x chocolate puddings
30 x packets of pork scratchings