Native American tribal casinos set to go online
04-11-2012
Native American tribal casinos are set to launch a joint online gambling site. The GEObet Gambling Network will launch the new online casino site this month. GEObet provides online services to Native American tribal casinos.
Improved competitiveness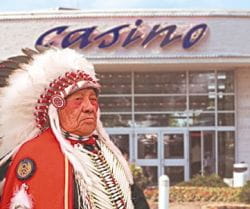 Gerry Gionet, president of GEObet and founder of the GEObet Gambling Network, commented: "We enable Native American tribes across North America to offer their offline activities online, which improves their competitiveness."
Portal of Native American tribal casinos
GEObet aims to build a portal of Native American tribal casinos, which will also create more unity. Additionally, the portal allows them to jointly offer huge progressive online jackpots. Participating tribal casinos may also share profits in mutual gambling. The network provides new opportunities in terms of employment and technical education for tribal communities.
Huge potential
"An online network of tribal casinos holds huge potential and may become a powerful online gambling hub. GEObet aims to extend the market for tribal gambling significantly by tapping into the world of online gaming," Gionet added.