Much anticipated South Park video slot live
24-09-2013
Tuesday 24th September marks the launch of the South Park video slot. The famous boys from the imaginary town of South Park invite you to join their crazy adventures. Spin the five reels of this staggering video slot and benefit from the generous bonus features.
Satirical sitcom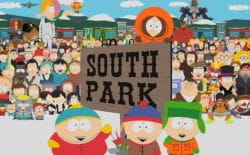 The 25 pay-line video slot is all about Stan, Kyle, Cartman and Kenny who became famous because of their crude language. South Park is packed with swearing and dark humor, which tend to cause controversy. Just like most
online slots
, the South Park video slot comes with several rewarding bonus features, based on the four protagonists, in addition to three mini-features.
Rewarding bonus features
Match two regular bonus symbols on the third and fourth reel in combination with one of the main characters' bonus symbol on the fifth reel to trigger a bonus feature. Eric Cartman always seems to draw a lot of attention, with the same applying for the Cartman bonus game as it's the most rewarding one. To be more exactly, this bonus feature enables you to
multiply your stake by 5,000
.
The fat kid strikes again
In addition to the four bonus features, the South Park video slot comes with three exciting mini-features. All of them are based on wild symbols and they appear randomly on your screen. Once again all spotlights are on the
'fat kid'
as the Cartman mini-feature is the most generous one. The
South Park
video slot is definitely a fun game to play, in particular if you like the popular TV show.