Malaysia authorities raid home-based casino
28-11-2014
A Kuala Lumpur resident has been booked in connection with an online gambling operation. Authorities believe that the 56-year-old man enabled people to
enjoy online gambling
at his house. Police also arrested nine patrons who were gambling at the time of the raid.
Illegal gambling at residence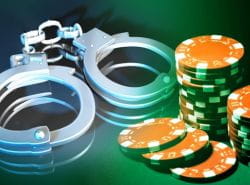 The owner of the residence had turned his house into an
underground gambling parlor
. Police recovered several computers, as well as RM500 in cash for forfeiture. A spokesperson revealed that the operator had recently initiated the illegal gambling den. Police discovered the underground business after months of investigation.
Clamp down on illegal gambling
"We are determined to continue our crackdown on
illegal gambling operations
, and we will respond rapidly to every indication of illegal gambling across the city", the spokesperson for the police added. All suspects will remain in custody for several days.