Kedah Police bust illegal gambling den
02-03-2015
Officers with the Kedah Police Department have flushed out an illegal gambling operation with the arrest of fifteen people. A spokesperson confirmed that the
black-market online casino
operated from a cyber cafe, which featured computers that enabled players to access the gambling site.
Successful gambling bust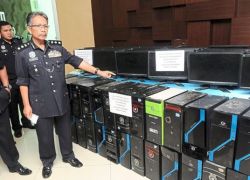 Fourteen suspects were gambling at the online casino when police officers
raided the business
. One of those gamblers is a 13-year-old youngster. All suspects face a fine up to $27,700. Agents recovered 27 computers and other gambling paraphernalia, in addition to a small amount of cash.
Illegal online gambling at cyber cafe
The owner of the cyber cafe can be sentenced to a fine, ranging from $74,800 to $750,000, if being found guilty. Police believe that gamblers could access the
online casino
after receiving login data from the owner. Winning players would collect their winnings at the internet cafe. The police spokesperson added that the minimum stake was $2,77.