Easter at Royal Panda: 40kg chocolate egg + $50 bonuses
24-03-2016
Easter is all about eggs and for that reason, Royal Panda offers a rather spectacular one. The popular online casino invites players to join the Battle for Easter promotion, which sees
winner scoop a 40kg chocolate egg
. On top of all that, this stunning campaign features two 50% deposit bonuses up to $50.
Two tickets for the Easter egg raffle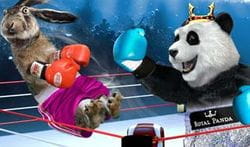 Excited to win the gigantic chocolate egg? Just follow the following steps:
Benefit from the full 50% deposit bonus on 27 March
Claim the full 50% Easter bonus again on 28 March
In both cases you receive one ticket for the
raffle with regard to the 40kg chocolate egg
, which means you can collect two entries for the draw that takes place on 29 March (at noon).
Grab your Easter bonuses at Royal
Please keep in mind that it's necessary to deposit $100 or more to claim the full Easter bonus up to $50.
Royal Panda
will reveal the winner of the Battle for Easter promotion on its official
Facebook page
, and on its website. Needless to say that you can also claim both bonuses without depositing $100 or more, which will not result in tickets for the Easter egg raffle.