Defrauding problem gambler from Essex avoids prison
03-04-2015
Meet Tracy King, a 39-year-old woman from Essex who turned to theft after her life was dominated by online gambling. The mother-of-three
stole approximately £200,000
from her boyfriend Gavin Ling, in addition to stealing nearly £50,000 from her uncle. King used all the money to feed her online gambling addiction.
Remarkable clemency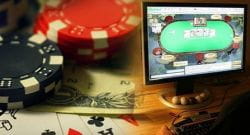 A Chelmsford Crown Court judge handed her an 18-month prison term, wholly suspended. In spite of the
gambling-related embezzlement
, Ling stated in court: "Nothing in this world means more to me than spending time with my girlfriend and our children." Her forgiving boyfriend was one of the reasons why the judge showed compassion, which resulted in a suspended prison term.
Gambled away every penny
King plundered her partner's savings account as she managed to obtain his online banking login details. So far, the 39-year-old online gambling addict has not repaid a penny of the stolen funds, which she all
blew on online casino gambling
. She was also ordered to undertake 180 hours of unpaid community service.