Betsoft Gaming launches new cinematic 3D game
28-04-2010
BetSoftGaming has proclaimed the launch of their latest creation: Mr. Vegas. The flashy alluring elements of Sin City have been integrated in one stunning 3D slot game. The innovative Mr. Vegas exceeds all expectations and understands the true meaning of gaming.
BetSoftGaming
Aliya Alpiyeva, the BetSoft director of marketing, commented: "The title character provides all the sparkle and flash of traditional Las Vegas. Mr. Vegas really offers everything a player needs. We are pleased to add this game to the Slots3™ series."
3D slot game
Mr. Vegas has the design that characterizes the Slots3™ style. The 3D graphics are comparable to those of studio feature film. It also features suave cinematic animations and a lively soundtrack. All elements together create one of the most stirring gaming experience.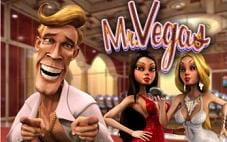 Trendsetter
BetsoftGaming believes that its distinctive style of gaming will be an example for other game developers. "Several slot games developers are shifting in this direction, which confirms our position as the trendsetter and veteran leader of real 3D cinematic gaming."
Mr. Vegas
The charming Mr. Vegas invites all players to join his adventures, exploring the Strip, enjoying a luxurious life and taking home big jackpots. "Creating the Mr. Vegas comic was very amusing," Alpiyeva commented. "A group of striking small stars join the engaging character. Players will surely enjoy his smooth social skills." Mr. Vegas' bonus rounds consist of traditional Las Vegas casino games, like the exciting money wheel, roulette and a mini-slot within a slot model.
Slots gaming
The BetSoft Expandicon™ technology enables such innovative presentation and fluent gameplay. It also reduces game load times. Three additional exclusive games will be added to the Slots3™ portfolio soon. Each title features the flash and dazzle that overwhelmingly have proved its success in the slots gaming scene.