Authorities round up extensive online gambling operation
23-12-2015
Vietnamese police have arrested four suspects for their involvement in a sizeable online gambling gang. The raids occurred at several locations in Vietnam, and Wong Boon Leong is reportedly the
leader of the operation
.
Arrests and raids across Vietnam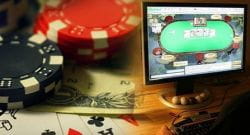 The 36-year-old Singapore native started the
gambling ring
two years ago, read a statement from the Vietnamese police. Cops raided Leong's house located in Ho Chi Minh City, where they seized multiple documents, including financial records, plus several computers, and cell phones. The other three suspects were arrested in other areas in Ho Chi Minh City.
Sophisticated gambling operation
Authorities believe that the gang operated several online gambling sites, allowing players to enjoy
slot games
, table games, plus
sports betting
. The sophisticated ring featured different divisions, including finances, marketing, and IT. Players could select multiple languages, and thousands of Vietnamese gambling enthusiasts have played at one of the gang's sites.