$5K birthday celebrations at Royal Panda
07-03-2016
Royal Panda's second birthday will be one to remember as the popular online casino offers another exciting promotion. One player will have the opportunity to
collect a stunning $5,000 in cash
, while lots of free spins are on offer.
Seven days packed with free spins
The celebrations start with a cool free spins bonanza, which invites you to:
Play 22 spins on the Twin Spin slot, two games of live roulette, in addition to two hands of live blackjack on 10 March
Royal Panda will award you with 22 free spins during seven days as from 11 March
Play the slot title of the day with real-money bets or using your free spins and collect the highest combo
The seven-day competition results in seven winners, who will join the Starburst contest on March 18
Every daily winner gets 22 free spins to collect the highest combo on the Starburst slot
Extra panda costume
Royal Panda provided
Pandas International
with ten panda outfits, which are important for panda cubs who enter the wild for the first time. The popular online casino also bought one panda costume for the winner of the Starburst battle, which will be announced via Royal Panda's Facebook page on 19 March.
$1,250 activities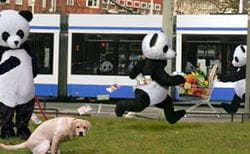 He or she can
collect a whopping $1,250
just by dressing up like a panda and carrying out the following activities:
Visiting a supermarket
Exercising
Traveling by metro or train during peak hours
Visiting a park with a dog
Video evidence
It goes without saying that the winner in question has to provide
Royal Panda
with a video (of at least 60 seconds) in order to demonstrate the activity. The winner has to publish the videos on
Royal Panda's Facebook site
within seven days after claiming the prize. The videos must show the setting (supermarket, park, metro/ train, sport environment), in addition to the winner dressed up as a panda.