Wonderland Slots spills out £10,028 jackpot at Jackpot Joy
15-11-2011
Wonderland Slots has paid out a progressive jackpot worth £10,028 at Jackpot Joy. "I'm still overwhelmed with happiness. It just seems like one big dream to me. First I need some time to let it sink in," 'Adam L' commented after cashing the
jackpot
.
Progressive jackpots and bonus rounds
Wonderland Slots is one of the favorite games among players at Jackpot Joy. This slot game is loaded with progressive cash prizes, in addition to extremely rewarding bonus games. Players can also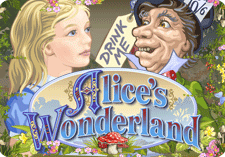 take home cash prizes when joining Mad Hatter for a cup of tea, enjoying a lawn game with the Queen of Hearts or by giving the roses a red color.
Play a game of croquet
Jackpot Joy revealed that Wonderland
Slots
is packed with surprises and an easy game-play. Alice and the Queen of Hearts invite participants to play a game of croquet. In this bonus game, players need to select the right hoops in order to triumph. Competitors also benefit from the exclusive bonus game.
Teapots and roses
Wonderland Slots also features the Mad Tea Party bonus round that provides numerous cups of tea. Select the teapots in order to reveal the prizes. The gardener cards challenge players to paint all the roses red. But watch out for the mad Queen.
Be aware of the angry Queen
Players who are not impressed by the angry Queen should try their luck in the Queen's Court round. The goal of this bonus game is to defeat the soldier cards. Aces are high and the evil Queen seeks to frustrate players.