Wizard of Oz slot spills out $674,000 jackpot
27-03-2015
A slot player from Pendleton (Oregon) has become significantly richer thanks to a progressive slot machine. The fortunate gambling enthusiast in question, Matt Doherty, took home a staggering
$674,096 jackpot
at a Pendleton-based gambling parlor.
Biggest jackpot since 2010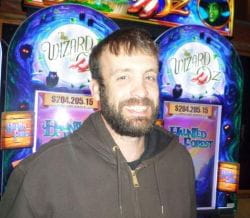 Doherty bagged the life-changing windfall whilst spinning the reels of a
Wizard of Oz slot machine
. A spokesperson for the Wildhorse Casino & Resort noted that it's the largest payout of this magnitude in the last five years. The casino official added that the chances of winning such a windfall are comparable to the odds of landing a similar jackpot in the lottery.
Appealing slot machines
The Wizard of Oz game is extremely popular among gambling enthusiasts due to the progressive jackpot, which is linked to a huge number of slot machines at casinos all over the country. For that reason, the jackpot rises as players spin the reels for real money. Some other examples of popular progressive slot games: Wheel of Fortune, Mega Moolah,
Monopoly
, and
Mega Fortune
.
17 extremely lucky winners
The Wildhorse Casino & Resort opened its doors in 1994, and since then, 17 visitors have bagged a progressive jackpot. The previous winner, a gambler from the small town of La Grande, took home $2.29 million in cash five years ago. Doherty, who was not available for comment, can opt to receive the money as a smaller one-time payment or as an annuity.