Wheel of Fortune slot spills out million dollar jackpot
23-04-2014
A casino patron from Gary, Texas has become an instant millionaire thanks to a Wheel of Fortune slot machine. The fortunate player in question, identified only as Bruce W., scooped a
$1,034,027 progressive jackpot
at the Eldorado Resort Casino.
More than 1,500 slots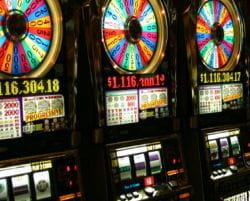 Bruce is the fifth player to take home a staggering cash prize thanks to a Wheel of Fortune slot, noted a spokesperson for the Eldorado Resort Casino. There have been multiple visitors who have scooped jackpots worth $1.6 million, $2.3 million, and $369,000. The Shreveport-based gambling venue offers more than 1,500
slot machines
, in addition to over 50 table games.
Annual payments or at once
Please keep in mind that if you want to win the Wheel of Fortune progressive jackpot, you must wager at least two coins ($2). Wheel of Fortune slots are also available at
online casinos
. If you win the progressive jackpot at a brick and mortar casino you will receive the prize in annual payments. On the contrary, online players receive the entire jackpot at once.