Weekly ritual results in $10.4 million jackpot
19-08-2014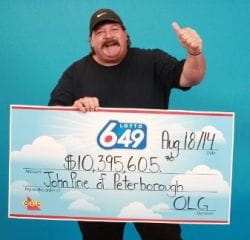 Meet John Pirie, a Canadian truck driver who has become an instant millionaire thanks to a winning lotto ticket. The father of six bagged a
$10.4 million jackpot
, which is a nice reward for his weekly ritual. On his way to work, Pirie always verifies his lotto tickets at the same gasbar.
Extremely rewarding ticket
"I verified the tickets at a lotto terminal, and the first four didn't award any prize. The last one however, turned out to be an extremely lucky one as it hit a
multimillion jackpot
", the father of six commented.
Early retirement
Pirie was shocked and at the same time worried about informing his boss about the
life-changing lotto prize
. He didn't drive to work that night, which is understandable after winning a jackpot of that magnitude. The Canadian truck driver said he has no immediate plans for the windfall, but an early retirement is definitely an interesting option.