Triple luck for Thunder Valley Casino patron
10-12-2014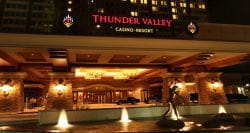 Nothing beats the sensation of winning a staggering cash prize. But how does it feel when you hit three jackpots? You should ask James M. who left the Thunder Valley Casino Resort with
$218,201 in winnings
. The Pleasant Hill resident had already scooped two other cash prizes.
Three jackpots
James was spinning the reels of a slot when the machine started blinking and bells started ringing. A $218,201 jackpot was the result, and the man from Pleasant Hill was speechless. Before winning the staggering cash prize, James had collected
a $16,000 jackpot, plus a $30,000 windfall.
Time for a new car
The
fortunate slot player
intends to purchase a new car, but he isn't sure what he will do with the rest of the money. James is employed in the construction industry, according to a spokesperson for the casino. "Everybody at Thunder Valley Casino Resort is delighted that one of our customers has bagged a jackpot of this magnitude", the spokesperson added.