Triple lottery luck for Virginia couple
31-03-2014
A couple from Virginia has done the impossible after winning the lottery
three times in less than four weeks
. Their winning streak started on March 12, when they hit a $1 million Powerball jackpot. Fourteen day later, lottery lightning struck again with another $1 million cash prize. Calvin purchased both fortunate tickets at a local supermarket.
Third big win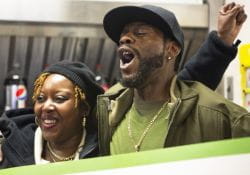 However, their winning odyssey wasn't over yet as the lucky couple has won $50,000 in cash thanks to a winning Pick 4 ticket. Calvin bought ten tickets that all rewarded them with $5,000 in winnings. "Our jackpot appetite has not been satisfied", the
lucky lottery player
commented.
$681,000 before taxes
Calvin declared he wasn't eager anymore to join the lottery after their first bonanza. Luckily, the Virginia resident
continued to buy lottery tickets
. Calvin and Zatera chose the cash option for their second $1 million lottery jackpot, which is worth $681,000 before taxes.