Trio shares staggering lottery jackpot
30-11-2011
A
$254 million
Powerball jackpot has been won by three Belpointe Asset Management managers. The trio includes Gregg Skidmore, Brandon Lacoff and Tim Davidson, who have won the biggest jackpot ever in Connecticut. "Everybody dreams about winning a life-changing jackpot, regardless of social status," Anne Noble, speaking on behalf of the lottery, stated.
What are the odds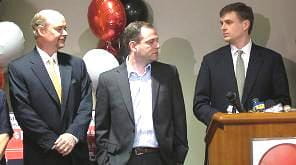 The three asset managers bought a single $1 ticket at a Stamford-based petrol garage. Davidson's winning numbers were randomly chosen by the lottery's system. The next day, the work colleagues found out they had scooped the Powerball jackpot. The chances of winning that jackpot were one in 195,249,054.
$100 million after paying taxes
They created the Putnam Avenue Family Trust to manage the staggering cash prize. The trio chose a single payment worth $151.7 million. It is expected that they will share over $100 million after paying $48 million in taxes.
Lost ticket
A few weeks ago, a sanitation employee thought he had won a life-changing
lottery
jackpot. However, he wasn't able to find the lucky ticket. "The man told me that he bought the ticket, but that he lost it. I was speechless," according to the manager of the shop that sold the ticket. The sanitation employee is still entitled to a quarter of the cash prize if he manages to find the ticket.