Traveler scoops $933,080 jackpot at airport gambling machine
30-03-2016
What better way to spend time at an airport than spinning the reels of a slot machine. That's exactly what a woman thought at McCarran International Airport in Las Vegas. That gamble definitely paid off as she
boarded her flight with a whopping $933,080 in her pockets
.
Nearly $1 million bonanza with $0,25 bet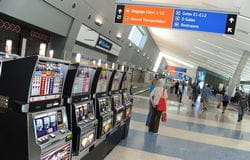 The fortunate gambler in question, who has opted to remain anonymous, started playing a
Wheel of Fortune slot machine
. With only a $0,25 bet she crammed her wallet with a stunning $933,080 in cash. That's what we call an extremely rewarding way to kill time while waiting at an airport.
More jackpot wins at airport
Passengers can choose from 1,330 gambling machines at
McCarran International Airport
. It's not the first time that a traveler hits a massive jackpot at the Las Vegas aerodrome. Last year, one fortunate passenger bagged a $1,056,878 cash prize. Additionally, another
traveler boarded his flight after winning a staggering $1,681,553 in 2015.