The story of Million Dollar Mary
14-11-2013
Meet Mary Torres, who gained the nickname
'Million Dollar Mary'
after selling three extremely rewarding lottery tickets. Torres works at Chevron gas stations across the state of New México. There are even people who specifically buy lottery tickets at stores where Torres works.
Three lucky tickets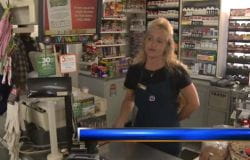 Torres sold each of those three lucky tickets at different Chevron gas stations. The lucky streak started two years ago:
In 2011, she sold a Powerball ticket that resulted in a $1 million windfall.
One year later, one customer took home a $320,000 jackpot thanks to a winning ticket sold by Torres.
Last month, she sold a Roadrunner ticket that resulted in a $445,000 windfall.

Unique lottery streak
A spokesperson for the New México Lottery confirmed that Torres' lottery luck is unique. The friendly clerk herself noted that the winning odyssey was incredible. "The first winning ticket was amazing, the second time was just unbelievable, while I'm still in a daze after the last one," Torres said.
No selling secret
Currently, she is employed at a Cedar Crest-based gas station. "I can't deny that ticket sales goes up when Torres works at the Chevron gas station in question," the owner of the Cedar Crest store told. The blonde-haired clerk doesn't use a special technique when selling the lottery tickets. However, she always wishes every ticket-holder
'best of luck'
.