Streator resident scoops $250,000 lotto jackpot
06-11-2013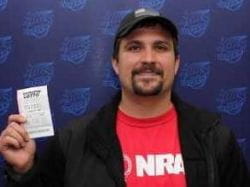 Winning a lottery jackpot worth a
whopping $250,000
obviously can't make up for the loss of one who has loved you. Earlier this year, David Branz lost his mother to breast cancer. Now lady luck is on his side, but the $250,000 lotto jackpot only pays lip service to the 30-year-old Streator resident.
Completely shocked
Branz was petrified after all numbers on his Lucky Day Lotto ticket lined up. "I was in a daze after learning I had won the staggering windfall. Due to my
shaking hands
, I was unable to put my signature on the ticket, " Branz commented.
Jackpot from heaven above
The lucky lotto player intends to purchase a small farm that allows him to keep two family-owned horses. Branz will also use the money to finance his son's education. "I think my mother was responsible for the huge jackpot," the 30-year-old
lotto winner
added.