Steak dinners instead of $28 million slot jackpot
07-02-2014
There's nothing more frustrating than the disappointment after a denied jackpot. Jennifer Carmin was spinning the reels of a China Shores slot machine when she hit a
$28 million jackpot
. The Blue Chip Casino refused to pay out the life-changing cash prize as they claim that a
software failure
caused the jackpot.
Software failure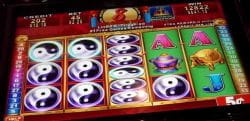 "I decided to try a China Shores penny slot machine and after a few minutes I hit the jackpot", the Indiana woman commented. At first, Carmin thought that she had won $2,800 or maybe $28,000, but another casino player told her that it was actually a $28 million jackpot.
Clear the machine!
A staff member arrived at the scene after hearing the 'lucky' slot player screaming. The employee immediately contacted the supervisor who rushed to the China Shores slot machine. "
Keep your hands off the machine
", the supervisor told her. Carmin panicked and didn't know how to react.
Two lousy dinner vouchers
The supervisor said he would call the Gaming Commission, and he offered her two steak dinners. "They tried to fob me off with two dinner vouchers. Did they really expect that I would accept them and forget about the $28 million jackpot? I felt
angry and frustrated at the same time
" the woman from Hobart, Indiana said. She filed a complaint against the Blue Chip Casino.