Slot player turns $4 bet into massive $633,400 win
09-03-2015
A gambler has won the largest slot jackpot ever at the Turning Stone Resort Casino. The fortunate player in question left the Verona-based gambling parlor with a whopping
$633,400
in his pockets. The winner, who wishes to remain anonymous, played with a $4 bet.
Network of progressive games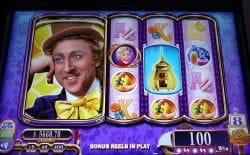 A spokesperson for the casino confirmed that the winner was spinning the reels of a Willy Wonka slot when he struck oil. Those popular machines form part of a huge network of progressive jackpots. There are nearly 1,500 slots linked to the platform. The Turning Stone Resort Casino was able to introduce the progressive machines after
investing more than $5 million
in its casino.
Great investment
"Last year's update was a massive operation. It was definitely worth the effort as our customers can now enjoy
progressive slot machines
, offering them the chance to win huge payouts", the spokesperson for the gambling venue commented. "The new machines add to the excitement of casino gambling, and our visitors are pleased with the new titles."