Slot player scoops $188,500 windfall at Coarsegold casino
08-01-2016
A gambling enthusiast from Fresno was spinning the reels of a Wheel of Fortune slot when she struck oil. The fortunate player in question, Diane Bennett Smith,
took home a stunning $188,552 in cash
. The massive win came a couple of days after the Chukchansi Gold Resort & Casino had opened its doors again for the first time since late 2014.
Exciting event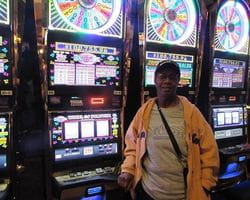 The Fresno resident was playing the popular slot when all of a sudden the machine started blinking and bells started ringing. Smith noted that she wasn't able to scream due to the impact of the staggering slot win. The
fortunate gambling fan
plans to treat herself to a new car, while her apartment will undergo a major upgrade.
More than just gambling
The Coarsegold-based gambling venue was forced to temporarily shut down after internal problems in late 2014. But now players can enjoy all kinds of casino games again, including 1,700
slot machines
, and 36 table games. The Chukchansi Gold Resort & Casino also provides visitors with lots of options in terms of leisure, such as restaurants, bars, clubs, and wellness.