Slot player pockets $1.9 million jackpot
03-09-2015
Another gambling enthusiast has landed a life-changing jackpot. Meet Nicole Lesley, who was spinning the reels of a Zoltan's Fortune machine when she struck oil. The Las Vegas Valley resident left the Fiesta Henderson Hotel & Casino
with a whopping $1.9 million in her pockets
.
Slot machine attraction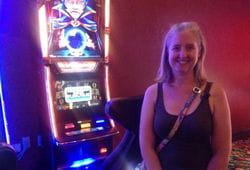 "For some reason, the Zoltan's Fortune machine caught my attention. I took a seat, inserted my card, put some cash in, and started spinning the reels", the
new millionaire
commented. After receiving several vouchers from the Henderson-based gambling venue, she decided to give it a try.
Life-changing combo
Lesley hit one of the slot's bonus games, followed by an extremely rewarding combo, netting her $1.9 million in cash. "We recently moved to the New Valley area, and I can really use the money to
settle some debts
. It will take some time to let it sink in. After all, you don't win a jackpot of this magnitude every day", Lesley added.