Slot player hits $492,881 jackpot at Cabazon gambling parlor
27-01-2015
A woman was enjoying her favorite slot when suddenly the machine started blinking and bells started ringing. It turned out that she had won a
$492,881 jackpot
while spinning the reels of a Wheel of Fortune progressive slot at the Morongo Casino, Resort & Spa.
Unforgettable gambling session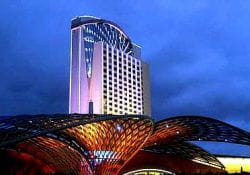 The winner has asked to keep her identity a secret after collecting the life-changing cash prize. It goes without saying that the fortunate Southern California woman will not easily forget that memorable day. Wheel of Fortune machines have a reputation for
spilling out massive jackpots
, which are linked to a statewide network of progressive slot carousels.
Generous one-armed bandit
"This latest win proves that spinning the reels of a
progressive slot machines
can be extremely rewarding. We are proud that one of our Morongo Winners Club members has won a jackpot of this magnitude", a spokesperson for the Cabazon gambling resort noted.