Slot player hits $2.6 million jackpot at Vegas casino
17-07-2014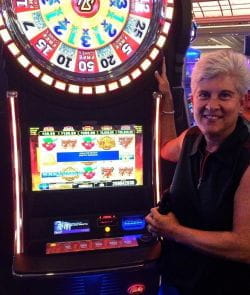 A Palm Desert resident has won a
$2.6 million jackpot
while spinning the reels of a Hot Shot video slot. Meet Susan Cupit, a California woman who enjoys playing slot machines. This time she scooped a multimillion cash prize at the Palazzo casino in Las Vegas.
Life-changing event
"The machine started blinking and bells started ringing. I knew immediately that I had won a massive cash prize. Then I realized it was a progressive jackpot, and other players were congratulating me right away , it was really amazing", the
fortunate slot player
commented.
Jackpot joy
Cupit noted that the casino win enables them to enjoy an early retirement. The couple plans to use the money to revamp their house, in addition to purchasing a caravan. Cupit and her husband can't wait to enjoy trips across the US with their caravan. "We have been married 39 years, and the jackpot adds a
rewarding twist to our anniversary
", Cupit said.