Slot player hits $1,154,123 jackpot at East Wind Casino
26-04-2013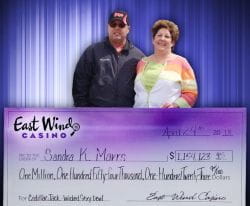 A slot player from Merriman, Nebraska has become an instant millionaire after scooping a
$1,154,123 jackpot
. A spokesperson for the East Wind Casino revealed that Sandra Marrs was spinning the reels of the Wicked Sexy Devil slot machine when she hit the progressive jackpot.
Favorite slot
The Merriman resident unveiled that she loves to play the Wicked Sexy Devil game. Actually, the progressive slot machine is one of her favorite one-armed bandits at the East Wind Casino. Marrs will use the money to pay her debts. Her husband will also benefit from the
$1.1 million jackpot
as Sandra plans to celebrate their 30th anniversary with a nice holiday.
Class II gambling machines
The East Wind Casino is based in Martin, South Dakota and opened its doors in January 2012. Punters can choose from 100 video gaming machines in the gambling section, which is open 24/7. The Native American gambling center offers so-called 'class II gambling machines', which are rather bingo-styled than traditional slots.