Slot player gives $14 million windfall away
01-12-2014
Generosity is becoming rare nowadays, but a gambler from Las Vegas has proved the opposite. The slot player took home a whopping
$14 million
thanks to a Megabucks gambling machine. While most people would keep the windfall for themselves, the winner in question will donate his fortune.
Rewarding $20 bet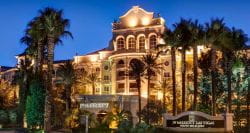 The slot player hit the jackpot at the Rampart Casino, which is located in Las Vegas' Summerlin area. A spokesperson for the gambling venue revealed that the lucky player had only wagered $20 when he struck oil. She added that the winner, who did not wish to be named, is not a regular player at the
Las Vegas casino
.
Church donation
It was rather surprising when the jackpot winner announced that he would not keep the windfall for himself. On the contrary, he will donate the entire amount to several charities, including his beloved church. The
fortunate Megabucks player
is pleased to finance the construction of a new building for his church family. It is unclear if there are more charities at his list.