Slot player cashes $631,279 at French casino
02-01-2015
How about kicking off 2015 with a staggering jackpot? That's exactly what a Belgian slot player did at the Casino Barrière de La Rochelle. The fortunate player in question, who has opted to remain anonymous, left the French casino with a
cool $631,279 in his pockets
.
Speechless after bumper win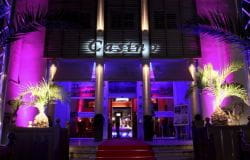 The Belgian gambling fan managed to turn a $0,73 bet into the amazing payout. The winner noted he tends to visit the French city on a regular basis. "I'm just thrilled, words can't explain it… I feel like I've flown to the moon and back", the
fortunate casino player
commented.
Record jackpot
A spokesperson revealed that it was the largest jackpot ever won at the La Rochelle-based casino. It is definitely not the largest payout ever made by a French casino as another
slot player
bagged a $11,437,922 jackpot four years ago. The fortunate player in question scooped the life-changing windfall at the Casino JOA Port Crouesty in Arzon.