Slot player cashes $4.5 million at Caesars Palace Las Vegas
06-02-2014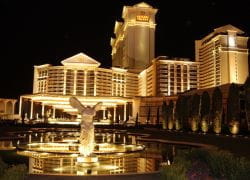 Progressive slot machines are extremely popular due to their linked jackpot, which increases every time someone plays the game. Wheel of Fortune is one of those progressive slot machines, which spill out staggering jackpots on a regular basis. This time it concerns a
$4.5 million cash prize
.
Serial code or jackpot amount?
The winner decided to play a
Wheel of Fortune slot machine
at Caesars Palace Las Vegas. It turned out to be an extremely rewarding choice as the player in question took home $4.5 million in cash. The slot player first thought that the numbers represented a serial code, while they were actually the jackpot amount won.
Heart of gold
Most jackpot winners plan to use the funds to pay off some bills or to splash out on new cars or fancy holidays. The winner of the $4.5 million jackpot however first thought about a
children's charity
. A spokesperson for the Las Vegas casino noticed that the lucky slot player had asked to keep his identity a secret.