Simcoe hairdresser scoops $50,000 bingo jackpot
24-03-2015
Bingo is not only an exciting game, it can also be a rewarding pastime. A hairdresser from Simcoe (Ontario) has experienced the lucrative nature of bingo. Karry Barth took home
$50,000 in cash
courtesy of a winning bingo session at Six Nations Bingo.
Shared bingo card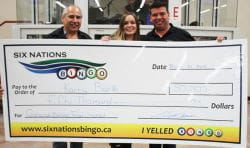 Barth is one of the hairdressers at First Choice Haircutters in Simcoe. She bought a $100 bingo card on behalf of herself and co-worker Tanya Pearson. Barth felt like she was going to pass out when she realized she had hit the jackpot.
Completely in shock
"I immediately called bingo as I didn't know that I had to wait five seconds after the number shows up. However, I was in complete shock so nobody heard my call", the 29-year-old
bingo
player commented.
Second-to-last participant
Initially, the two hairdressers would play bingo together, but Pearson wasn't able to attend the session due to a private matter. For that reason, Barth played on behalf of her colleague. The 29-year-old Simcoe resident arrived
two hours after the opening
at the bingo venue, but they let her enter the bingo event as the second-to-last competitor.