Shop worker conceals EuroMillions jackpot
05-08-2012
A shop worker has tried to scam a 77-year-old granny who had won an EuroMillions jackpot worth £1 million. Maureen Holt asked shop clerk Nizzar to check her lottery ticket. He told Maureen that she hadn't won anything, after which he phoned a lottery hotline to claim the prize. Nizzar has confessed his sins and the grandmother will receive the staggering jackpot.
Time to retire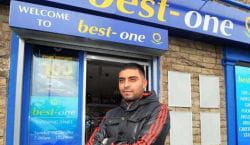 "It's really unbelievable that someone is capable of scamming another person. The jackpot cash finally enables us to retire," Maureen commented. They were enjoying a holiday abroad at the time of the EuroMillions raffle.
Another lie
Nizzar stated that he had purchased the ticket at an Oldham-based shop. However, lotto chiefs found out that the winning ticket was sold by another supermarket. They managed to trace the 77-year-old winner thanks to her club card. Additionally, security camera footage showed that Maureen purchased the ticket at the Best One Convenience Store.
Disappointed
The shop worker tried to flee after he was caught. Police officers detained Nizzar and he confessed his attempt to claim the jackpot. He faces up to one month in jail. "I had always believed he was a good lad from the moment we became acquainted. We are really disappointed and hopefully he learns from his mistake," Maureen added.