Selling drugs despite £691,000 lottery windfall
11-03-2016
Stunning cash prizes don't always guarantee a happy life. Ask Nina Hughes, who started using drugs, and even
became a drug mule
despite winning £691,000 in cash. Police arrested the 43-year-old woman, and she now faces a two-year prison sentence, wholly suspended.
Piece of good luck after misery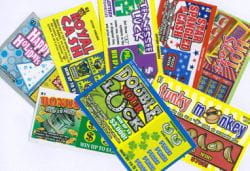 Hughes was living on the streets and drinking while raising her kids before landing the £691,000 jackpot thanks to a
winning scratcher
. She went back to college after giving birth to her fourth baby in 2005. Hughes used the lottery fortune to purchase two properties, and it seemed that her life had changed for the better.
Drug dealing boyfriend
But things went downhill when she fell in love with a
drug dealer
in 2015. Apparently she couldn't resist the temptation and started consuming drugs. Judge Simon James stated in court that Hughes has a lack of personal responsibility as she feels that she isn't to blame for her situation. Several other persons have also been sentenced to prison after the anti-drugs raid.