Richer than David Bowie thanks to EuroMillions jackpot
15-10-2011
The National Lottery has announced that a Brit has won £101 million in cash courtesy of the EuroMillions lottery. After claiming the jackpot, £101,203,600.70 will be added to the winner's bank account.
Richer than David Bowie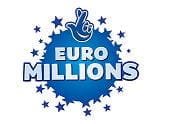 It remains unclear if the jackpot has been won by an individual lottery player or by a lottery group. If the jackpot has gone to a single ticket-holder, he or she will possess £1 million more than David Bowie. The Sunday Times Rich List 2011 shows that Sharon and Ozzy Osbourne own £95 million, while Gwyneth Paltrow and Chris Martin possess £48 million.
£161 million
The largest lottery in the UK announced that they are excited to welcome another member of the millionaires club. A Scottish couple took home a
record jackpot
in the EuroMillions lottery this summer. Colin and Chris Weir cashed a life-changing cash prize worth
£161 million
. In addition, a British lottery player walked away with £113 million in October last year.