Restaurant owner forced to share lottery prize with waiter
15-07-2014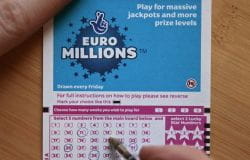 A restaurant waiter dreamed about his boss winning a lottery jackpot. For that reason, Fatih Ozcan told the owner of the Turkish restaurant in York to buy a EuroMllions ticket. Ozcan's
dream came true
and he demanded half of the cash, followed by a court case.
Jackpot dispute
A judge has ruled that Hayati Kucukkoylu, who owns the restaurant, and Ozcan have to share the lottery jackpot. Shortly after the EuroMllions raffle in January 2012, the two started arguing about the prize. Kucukkoylu claimed he was the rightful owner of the prize as he had selected the numbers and had paid for the ticket. However, Ozcan had bought the
lucky lottery ticket
.
Plausible explanation
The quarrel didn't stop there as the waiter decided to consult both Camelot and the police. Ozcan asserted that the restaurant owner had stolen the lottery ticket, which led to the arrest of Kucukkoylu. The duo decided to take the case to court as they weren't able to reach agreement on the jackpot dispute. The judge considered Ozcan's story as reasonable and ordered Kucukkoylu to share the
EuroMllions prize
with his employee.