Recycling lottery ticket results in $3.25 million prize
28-08-2015
Players can miss out on quite some cash if they throw away their California Lottery tickets. Carol Craver is certainly not one of them as she
scooped a staggering cash prize
thanks to the lottery's second chance game.
Second chance results in multimillion jackpot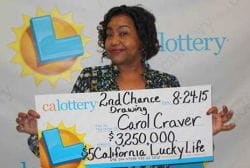 The Inglewood resident bought a $5 California Lucky Life ticket, which didn't hit any prize. However, Craver decided to give the scratcher a second chance. It turned out a rather rewarding decision as she
took home a whopping $3.25 million in cash
courtesy of the 2nd chance program.
Shocking event
"Lady luck has been on my side several times, but I have never won a jackpot of this magnitude. I was shocked and felt like I was
going to pass out
when I realized I had hit the jackpot", Craver commented.
Weekly payment of $2,500
The fortunate lottery player has opted for a weekly payment worth $2,500 rather than taking the fast lane. Craver will use the money to enjoy a holiday to
Las Vegas
, while a cruise vacation to Alaska is another option.