Quaker Oats employees hit $241M lottery prize
21-06-2012
Twenty fortunate employees have claimed their lottery jackpot worth $241 million. The winners are part of a lottery pool at the Quaker Oats plant in Cedar Rapids. It remains unclear how they will spend the jackpot cash. One thing is for sure, the life-changing jackpot will provide them financial stability.
Jackpot worth $241 million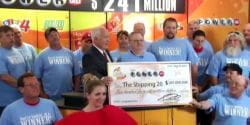 The winners, aged between 35 and 64, bought the lucky ticket at a supermarket in Cedar Rapids, Iowa. All numbers of the Powerball ticket lined up, rewarding them a whopping $241 million. It is the fifteenth biggest cash prize ever rewarded by the Powerball lottery.
Major impact
They were advised to hire a financial consultant before claiming the cash prize. "The jackpot will definitely have a major impact in their lives. For that reason, we urge them to hire a financial adviser. If they haven't sign the ticket, they should certainly do it right away and keep it in a safe place," noted Terry Rich, chief executive officer Iowa Lottery.
Retirement
They have opted to collect their winnings — $5.6 million each after taxes — in a lump-sum payment. Not surprisingly, 11 winners already announced their retirement. During a press conference at the Des Moines-based Iowa Lottery office, they all wore the same blue t-shirt. The
lottery
group consists of 18 men and two female workers.