Puerto Rico immigrant scoops $5.2 million lotto jackpot
22-04-2014
The Good Life instant lottery, hosted by the Illinois Lottery, has produced another millionaire. 27-year-old Yajaira Perez scooped a
$5.2 million jackpot
, according to the Illinois Lottery. The Oak Park woman bought the fortunate lottery ticket at a local 7-Eleven shop.
A dream comes true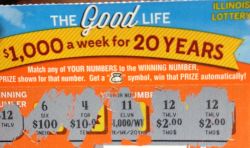 Perez is the third Oak Park resident to land a staggering jackpot this quarter. The 27-year-old winner plans to move to another state, while she wants to invest some of the
lottery cash
in a facility for victims of domestic abuse. "The first thing that came to my mind when I scooped the cash prize was that I could finally realize my dream to set up a facility for battered victims", the Oak Park resident stated.
Annual payment of $260,000
The 27-year-old woman chose to have her $5.2 million prize paid out as an annual sum of $260,000, which after taxes comes to $182,000. Perez was only 17 when she moved from Puerto Rico to the US, and she has had several jobs at public schools across the city of Chicago. "Working at schools has learned me that
I really want to be around children
", Perez added.