Presque Isle Downs & Casino awards $141,785 jackpot to slot player
13-12-2013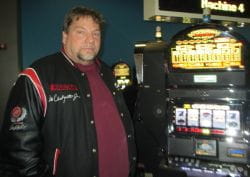 James Lautanen visited Presque Isle Downs & Casino to enjoy some slot machine action. The 56-year-old Jefferson (Ohio) resident decided to try a progressive slot machine, resulting in a
$141,785 cash prize
. Happy holidays James!
Perfectly timed
"The jackpot comes with perfect timing considering the upcoming holidays. Everybody at Presque Isle Downs & Casino is excited about this staggering jackpot win," a spokesperson for the casino commented. Presque Isle Downs & Casino opened its doors back in 2007. Last year, one fortunate player nabbed a
$500,000 jackpot
, which is the largest payout to date.
Max bet required
Progressive slot machines are popular because they offer jackpots that are larger than usual. On progressive slots, a maximum bet is required in order to compete for the
progressive jackpot
. An ensemble of slot machines in different casinos are connected to one cash prize. The jackpot continues to grow every time someone plays the machine for real money.