Powerball player picks up $259.8 million check
04-07-2014
A Knoxville resident will have a big smile on his face for quite a while after claiming a Powerball prize. Roy Cockrum had every reason to smile as he picked up a check for a
$259.8 million jackpot
. The 58-year-old lucky devil has chosen to receive the payment as one lump sum which after taxes comes to more than $115 million.
$259.8 million instead of $500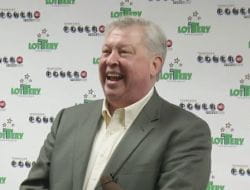 "I know it's a cliché, but winning a multimillion jackpot is really an incredible sensation. At first I thought I had won $500 as I was quite busy with other things. But soon I discovered that I had missed a number. I was shocked when I realized it was a
$259.8 million jackpot
. It was a strange sensation to hold a lottery ticket for a life-changing prize", Cockrum said.
Donations
While the
enormity of his windfall
is still sinking in, he already has a few ideas of how the money will change his life. He plans to put most of the money in his savings account. Additionally, Cockrum will donate some of the cash to good causes, such as a few religious charities, in addition to several Knoxville-based organizations.