Powerball player cashes $1 million thanks to NASCAR numbers
23-05-2013
A convenience store cashier has
won $1 million in cash
courtesy of a Powerball ticket. Mary Jane Hart from Doniphan, Missouri revealed that she had used the numbers of several NASCAR drivers. Hart will now be able to attend more car racing events.
Two lucky Powerball tickets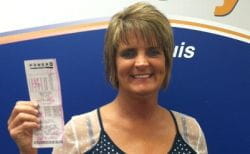 The Doniphan resident, who recently started working as a cashier at the store, also intends to enjoy a holiday sunshine in Hawaii. Hart purchased two Powerball tickets. The first one resulted in a $500 cash prize, while the second ticket was worth a whopping $1 million.
NASCAR fan
"It has always been my dream to scoop a staggering jackpot, which would enable me to enjoy more car races. I really love NASCAR racing," the lucky winner commented. She checked the numbers only after a co-worker had told her that a $1 million ticket was sold at the convenience store.
Dream comes true
Hart is excited to pursue her long-cherished dream of visiting Hawaii. She will not quit her job at the store where she purchased the
life-changing Powerball ticket
. "The win definitely brings a big buzz to Doniphan, which is a rather poor town with only 2,000 inhabitants," Hart added.