Powerball mystery solved: granny wins $590M jackpot
06-06-2013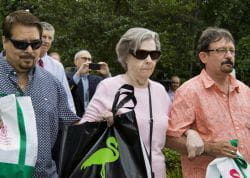 A 84-year-old granny has put an end to speculations over who had won the Powerball jackpot. It was the talk of the town, but a Zephyrhills resident has solved the mystery. Gloria C. MacKenzie has claimed the jackpot worth a whopping
$590 million
.
$270 million after taxes
84-year-old MacKenzie has chosen to receive the payment as one lump sum which after taxes comes to $270 million. Local media report that the pensioner lives in a small home in the town of Zephyrhills, Pasco County, Florida. Zephyrhills is also the name of the 100% natural spring water.
Kind customer
The fortunate grandmother purchased the ticket at a local convenience store. She would not have won the staggering prize if it had not been for a gentlemanly customer. He allowed her to take a place before him in line. MacKenzie's jackpot is the
second-biggest lottery prize
. In March 2012, a
$656 million Mega Millions jackpot
set a new lottery record.