Possible jail term after drunk jackpot celebrations
11-03-2015
Winning a staggering jackpot can lead to crazy celebrations, but a German gambler went too far. The jackpot winner in question, who only wants to be referred to as Marko M., caused a fatal car crash after
scooping a $537,000 jackpot
back in 2011. He now faces a jail term up to five years.
Intoxicated jackpot winner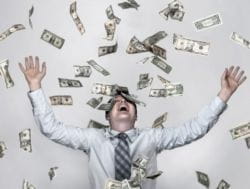 The 51-year-old German went on an alcohol and drugs spree after striking oil at a Wiesbaden-based gambling parlor.
Marko M. was intoxicated
when he drove the wrong way on a highway where he hit another car. The driver didn't survive the accident, while two other passengers were seriously injured.
Horrible blackout
Subsequently, the jackpot winner caused another
car accident
when he continued driving, leaving two individuals injured. He then walked to a nearby city where he spent the night, after which he reported himself to the police. Marko M. feels enormous remorse over his actions, and he still can't believe how things got terribly out of hand. "I despise myself", he stated in court.