Poker jackpot at Caesars exceeds $700,000
31-07-2012
Caesars Entertainment has combined the bad beat jackpots at Caesars, Harrah's Resort, Bally's and Showboat. This has resulted in a record jackpot that has exceeded $700,000. Two years ago, a lucky poker player won the bad beat jackpot worth $672,115. Now the combined jackpot has climbed to more than $700,000, which is a new record in Atlantic City.
Requirement losing hands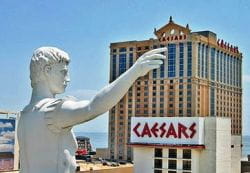 Each pot contributes $1.00 to the progressive bad beat jackpot. The term bad beat refers to a strong hand that fails to wins. Losing hands that are eligible to win the bad beat jackpot must meet certain requirements. Some poker games require that losing hands must feature four cards of the same suit or better. There are also poker games that have extra requirements.
Buzz
"The new record jackpot has attracted a huge number of poker fans to our poker rooms. They all want to win the massive cash prize at our casinos that offer the record bad beat jackpot," according to Caesars Entertainment Eastern division president Don Marrandino.
Pooled jackpot
Caesars Entertainment Atlantic City launched the combined bad beat jackpot back in August 2010. It was the first combined Texas Hold'em poker room bad beat jackpot in Atlantic City. The 'pooled' jackpot kicks off at a whopping $524,045. By the way, you can find all Texas hold'em rules on
BestOnlineCasino.com
.