Plumber bags jackpot worth $5 million
28-06-2012
Andrew Porter visited the Loch Sheldrake Food Mart, which he does regularly. He bought a $20 Mega Money ticket. However, he decided to exchange the original ticket, which turned out to be a $5 million decision. "I started jumping around. It must be a gift from above, it's really incredible," Porter added.
Instant millionaire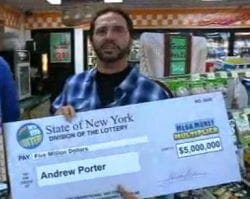 "I first thought that I had won $5,000 when I scratched three zeros. It turned out to be $5 million after scratching 3 more. I took another look at the ticket and realized I had become an instant
millionaire
," the plumber from Fallsburg stated.
Disneyland and new car
Porter has opted for the lump sum payment of 3.3 million. "I will treat my children to Disneyland, in addition to some nice gifts," the lottery winner said. His daughter Kylee Porter already received a brand new car. "It's crazy, my daddy bought me a new car!"
Dumb luck or destiny
His instinct told him to switch the first scratch card out for another one. That resulted in a jackpot worth $5 million. You can call it dumb luck, but we guess it was destiny. Anyway, the father of seven children will certainly continue relying on his intuition. At the end of the day, choosing a lottery ticket is like
gambling in a casino
.