Patron $100,000 richer thanks to casino promotion
24-12-2014
Everybody likes casino promotions as they add a generous twist to your gambling session. A casino player from Wichita, Kansas can bear witness to that fact after
cashing $100,000
at his favorite gambling parlor: Kansas Star Casino.
Monthly drawing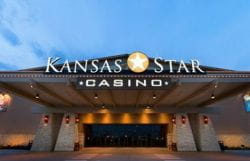 Gregory A. collected tickets for the Progressive Payday Giveaway at the Kansas Star Casino. The promotion's drawing took place every month from April to November, and
$10,000
was added to the prize pot in case of the top prize rolling over.
Rewarding envelopes
At the end of the promotion, twenty competitors, randomly selected, were invited to pick a prize envelop. Those players could win prizes up to $5,000, in addition to the
guaranteed top prize worth $100,000
, won by Gregory A.
Extensive gaming repertoire
"We are excited to award a prize of this magnitude, adding a rewarding twist to this year's Christmas celebrations", a spokesperson for the Kansas-based gambling venue commented. The Kansas Star Casino provides players with an impressive variety of entertaining games, including 1,800
slots
, more than 50
table games
, plus live poker.